How has paving technology advanced over the years?
State Departments of Transportation and increased commercial and consumer driving over the past 20 to 30 years have forced changes in the road building industry. Demand is shifting to eco-friendly, smoother rides and roadways that last longer. Pavement manufacturers, contractors, and engineers have turned to innovative paving technology for more efficient and economical methods to meet those demands.
FIGURE 2-1 Time course of the number of vehicle miles traveled by year from 1960 to 2000, indicating travel on rural and urban portions of the highway system. Source: FHWA 2001b.
1. How technology is changing the way paving is done.
Most highway mileage is in over 3.0 miles of rural areas. Rural roads carry only 30 percent of the nation's highway traffic. The majority of traffic is in urban areas, resulting in more significant wear on urban roads and bridges due to congestion.
Building and maintaining roads and bridges is generally the responsibility of state and local governments.
Of the 4.1 million miles of road in the U.S., almost 97 percent are under the state and local government's jurisdiction.
In 1984, the Transportation Research Board published a strategic study stating that America was facing an infrastructure crisis. The study pointed out the need for state transportation agencies to make significant improvements in the ways they build, maintain, and operate highways.
The Strategic Transportation Research Study (STRS report) laid the foundation for changes in pavement mix formulations and paving technology innovations that have transformed the paving industry over three to four decades.
Paving Mix and paving technology changes
In the past two decades, the paving industry has changed from being a producer of a plain-vanilla pavement product for roads to a producer of an environmentally friendly, high-tech paving medium adaptable to different climates, traffic loads, and end-use applications.
Changes in Asphalt Paving
The asphalt industry has shifted from conventional mix designs to performance-related, more durable Superpave binder mix designs, which will hold up to the traffic loading and weathering stresses of modern-day road use.
Asphalt mix changes have brought about a new generation of lab and field mix-testing equipment and new full-scale accelerated pavement testing facilities. The resulting body of data is used every day to make pavement mix design decisions and improve long-term asphalt performance.
Innovative new equipment and research, recycling of reclaimed asphalt pavement and other industrial or waste materials into pavements has spread through the asphalt paving industry, benefiting the environment and reducing costs.
Infrared and electronic paving has improved the quality and placement of asphalt mix.
New asphalt paver designs permit faster, safer, and more versatile paving.
Changes in Concrete Paving
Significant advances in concrete paving in the field of admixtures, which has permitted the development of a range of high-performance concretes.
More efficient batching techniques and equipment better use materials to produce higher quality concrete mixes and allow automatic adjustments to concrete mixtures.
Intelligent Equipment that incorporates GPS trackers and IoT sensors concrete construction allows for predictive maintenance and can improve production cycles.
2. Paving Equipment Technologies
Paving technology helps shape the paving industry's future, from telematics, process monitoring systems, 3D paving control technology to thermal mapping and intelligent compaction which contribute to getting the work done faster, smarter, and safer.
What they are and why/how they are used
1. Thermal mapping and imaging
Thermal mapping monitors asphalt's surface temperatures using an infra-red camera and a global navigation satellite system.
Viewing real-time temperatures, contractors can use paving technology devices to identify variations and take action to manage the plant to paver delivery process, fine-tuning their work for more uniform lay-down temperatures.
Thermal imaging uses an infrared bar mounted directly to the back of the paving machine and uses infrared sensors to monitor pavement temperature.
The sensors provide real-time information on temperature while the system saves the data for future analysis.
Monitoring lay-down temperatures in real-time gives contractors the ability to address thermal segregation issues by changing their paving practices or making necessary adjustments to the equipment.
2. Intelligent compaction
Source: https://theconstructor.org/wp-content/uploads/2020/04/intelligent-compaction.jpg
Intelligent Compaction refers to the compression of road materials using vibratory rollers equipped with an integrated measurement system, an onboard computer reporting system, a Global Positioning System based mapping, and optional feedback control.
This paving technology reduces cost and improves the long-term performance of the pavement.
The system can be factory-ordered or fitted later to rollers.
Intelligent compaction provides information on pass count, stiffness, and temperature.
These technologies, which include measurement, positioning, and analysis systems, define intelligent compaction systems.
Measure. Compaction Control technology enables the operator to monitor work site conditions that affect job quality and efficiency in real-time.
Document. Global Navigation Satellite System positioning technology permits operators, site supervisors, and engineers to record and visualize the work's quality and uniformity over the entire site.
Analyze. Data collected is analyzed and used for documentation or to uncover hidden efficiencies.
3. Oscillatory vibration systems
Oscillatory Vibration Systems combine standard vibration on the front drum with oscillation on the rear drum.
Vibration and oscillation systems offer a wide range of applications from large expressway projects to smaller, yet critical, urban-type work.
The front drum utilizes vertical vibration that delivers the amplitudes and frequency options for thicker lifts and challenging mix designs.
The oscillation system on the rear drum effectively performs on thin lifts and near sensitive structures such as buildings, bridge decks, and over underground utilities like fiber-optics, electric, water, and gas lines.
4. Inset paving machines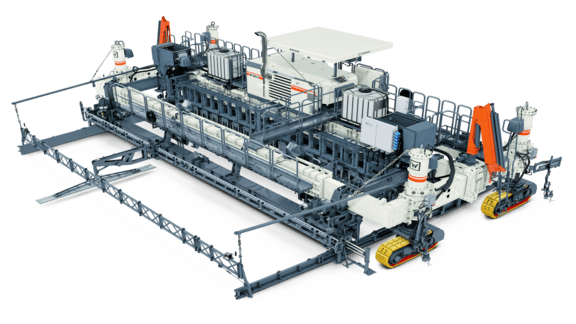 Inset slipform pavers cost-effectively produce of large-scale concrete pavements, such as highly durable highways or aircraft runways.
Modern inset concrete pavers can precisely pave concrete in widths from 6 ft. 6 in. to 40 ft. and thicknesses of up to 18 in., or more upon customer request.
These pavers allows intuitive operation and high paving accuracy. Wirtgen created the first paver with a maximum working width of 40ft. that enables the operator to adapt to changing job site conditions quickly.
It is a narrow machine with a trackline that allows for paving close to obstacles.
5. Offset paving machines
Offset pavers are used to produce concrete roadway forms such as protective concrete walls, curbs, gullies to drain water, gutters, or narrow paths.
Offset slipform pavers transport the concrete to the offset mold via a loading conveyor.
The offset mold can be mounted on the left or right-hand side of the machine.
Offset forms are continually produced with or without reinforcements. Features include a top-quality machine control system, a practical steering and drive system, and stringline-free concrete paving.
6. Texture curing machines
Texture curing machines increase efficiency on any project where the concrete's surface requires texturing and the application of curing compound because one device handles the texturing, curing, poly-roll, or burlap astroturf drag.
These machine frames are adjustable to handle widths from 12 ft to 56ft. A central operator station and power supply provides hydraulic control from one location.
Electric-over-hydraulic forward and reverse steering and grade control are sensored off the same stringline as the paver. This control offers ease of operation and accuracy in texturing and curing the slab.
7. Placer spreaders
Modern placer spreader's two-track design is equipped with a belt placer that runs through the tracks delivering concrete directly to the spreading auger.
The placer spreader is equipped with one conveyor and two auger drive circuits for placing and vibrator circuits for paving.
There is a control system to unlock the versatility of both a slip-form paver and a placer/ spreader, which quickly and efficiently interfaces with stringline or 3D machine guidance system technology.
8. Slipform Pavers
Slipform construction is a method in which concrete is poured into a continuously moving form.
The concrete is deposited in front of the slipform paver or fed via a belt conveyor or side feeder.
Due to the integrated electric or hydraulic vibrators, homogenous compaction of the concrete is possible.
A concrete slab is formed with the help of input variables into a control guide by specified thickness and width while the slipform paver advances.
Additionally, a dowel bar inserter can be integrated parallel to the paver's direction of travel.
With the help of an oscillating beam, the surface is leveled off traverse to the paver's direction. The machine can achieve a high-quality concrete surface with the grinding movement that produces a small concrete roll in the beam's front.
9. Stringless Concrete Paving
Concrete paving construction conventionally uses physical guidance systems, such as string lines, for the slipform pavers. However, several drawbacks of using the stringline system may mar the finished pavement surface.
A noncontact guidance system ties the paving surface to the 3D GIS.
The guidance system guides paving equipment movements during construction.
Stringless paving technology eliminates common pavement smoothness issues, such as chord effects, sag effects, and random survey effects, and paving efficiency.
Advantages of these technologies over older methods
Paving at the wrong temperature leads to low paving quality that can impact safety and road durability. Newer Thermal imaging enables paving contractors to build safer, longer-lasting roads that can adequately handle traffic loads and volume.
Traditionally, compaction has been an inexact science. The operator sets the roller pattern early in the project and verified by in-place density measurements. The roller operator 's responsibility is to count passes and keep track of starts and stops, presenting risks for inconsistencies due to human error.
Intelligent compaction paving technology helps the operator to understand job site factors that affect quality and uniform compaction. Intuition and guesswork are eliminated as operators use real-time data. Compaction Control systems mounted to equipment analyze and deduce when the compaction conforms to specification, ensuring complete coverage and efficient, uniform work.
Oscillation offers critical advantages for compaction over conventional methods. Conventional vibration techniques involve out-of-balance weights that achieve an up and down motion for the drum that direct forces downwards.
The transmitted vibration may cause damage to surface structures, older buildings, underground utilities or adversely affect nearby computer equipment.
Oscillation works by using exciters to move the drum back and forward, thus minimizing transmitted vibration. By using oscillation, contractors can achieve good longitudinal evenness without risking surface rippling even when the machine operates at high working speeds.
Texture curing gives contractors excellent steering accuracy in both forward and reverse directions, even at the higher speeds needed to ensure uniform curing and tining results while significantly speeding up the tining and curing process.
Modern spreader placer machines fitted with auto-guide technology control the amount of concrete poured to the slipform paver quickly and uniformly.
Slip form minimizes defects in the pavement surface because:
Concrete settles faster than traditional forms of surfacing.
The use of manual labor is minimized, resulting in cost savings.
Surfacing Process is Faster
Can pave large surfaces
3D stringless control systems
The primary advantages of stringless paving technology are convenience, reducing bumps in the pavement, and no broken strings to delay construction.
Stringlines are eliminated, reducing cost, increasing job site maneuverability, and making the site safer for workers. 3D stringless paving machine control can decrease the total time to complete a paving project.
Asphalt is one of the most significant components of highway construction.
Paving technologies that gather data help engineers and manufacturers understand the effects of pavement mix formulation changes, causes of pavement failures, and how pavement performs under different conditions.
Manufacturer's research with different paving material additives, recycling, and mixing plant processes result in improved paving mixes that improve pavement performance and durability and are more appropriate for road and highway application.
Equipment technology has changed paving to reduce project duration, equipment hours, fuel consumption, labor hours, and more. All that adds up to a more productive, efficient, and safe job site.
https://pavingfinder.com/wp-content/uploads/2021/04/Featured-image-Advances-in-Paving-Technology.jpg
455
782
admin
https://pavingfinder.com/wp-content/uploads/2020/10/logo.jpg
admin
2021-04-27 21:13:18
2023-07-06 04:02:19
What are Some Advances in Paving Technology?